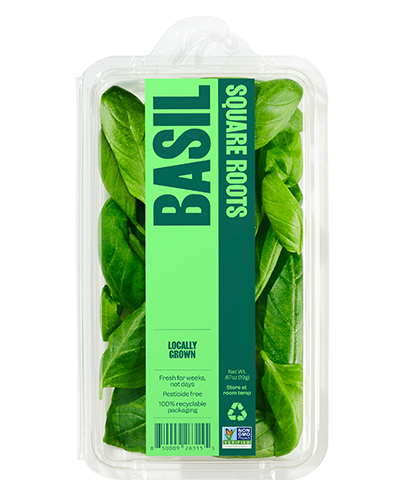 The story behind your basil
Your basil was grown indoors at the Brooklyn, New York farm in a climate-controlled environment to create the ideal conditions for the freshest, most flavorful, highest quality greens.
Your basil timeline
Our basil is harvested and delivered to stores within hours, so you can enjoy tastier, fresher greens for weeks.
STEP 1

Seeding

Your basil was planted in Brooklyn, New York on October 18.

STEP 2

Harvest

Square Roots farmer Jerry picked your basil on November 17.

STEP 3

Packing

Jerry placed your basil in a PET #1, recyclable container and placed it in cool storage on November 17.

STEP 4

Delivery

Your basil was delivered to your local store on November 19.

STEP 5

Recycle

After enjoying your greens, simply recycle your container.
Trace more of your Square Roots greens.
Use our Square Roots Transparency Timeline to put a face and a farm to more of your greens. Simply scan the QR code or type in the 8-digit lot number on the back of your package, and eat easy knowing it is as fresh as it gets.
Oops! Something went wrong.